Roland GAIA SH-01 Synthesizer
Roland Gaia - successor of SH-201, comes with 20+ waveforms and has 3 oscillators per voice. It's basically a 37-note virtual analogue subtractive synthesizer aimed at the mid-market.
Roland has resurrected naming of their synts in accordance with the antic world. Gaia is a name that is taken from the same surrounding of the old antic world.
Features include:
Huge sound with three virtual analog engines onboard, each with a dedicated oscillator, filter, amplifier, envelope, and LFO
Layer up to five simultaneous effects, including distortion, flanger, delay, reverb, low boost, and more
64-voice polyphony for massive sounds without note drop-out
Fun, hands-on control panel thats great for instant gratification, and for learning synthesis
Lightweight, compact body with 37 full-size keys
Runs on AC or battery power for portable convenience

37 keys (velocity sensitive)
Maximum Polyphony-64 voices
Virtual analog synthesizer sound generator-(Oscillator + Filter + Amp + Envelopes + LFO) x 3
Oscillator waveform-SAW, SQUARE, PULSE/PWM, TRIANGLE, SINE, NOISE, SUPER SAW
Envelope-Attack, Decay, Envelope Depth
Modulation-Oscillator Sync, Ring Modulation
(Tone 2's OSC 2 is applied as modulation to Tone 1's OSC 1.)
FILTER Section-LPF, HPF, BPF, PKG (-12 dB/-24 dB)
CUTOFF, RESONANCE, KEY FOLLOW
Envelope-Attack, Decay, Sustain, Release, Envelope Depth
LFO Shape-TRIANGLE, SINE, SAW, SQUARE, Sample
Knobs/Sliders-RATE, FADE TIME, PITCH DEPTH, FILTER DEPTH, AMP DEPTH
Tempo Sync-Effects, Distortion, Fuzz, Bit Crash, Flanger, Phaser, Pitch Shifter, Delay, Panning Delay (with tempo sync function)
Reverb
Low Boost
Pitch Bend/Modulation lever
D BEAM Controller
Arpeggiator
Phrase Recorder
Jacks/Connectors
OUTPUT jacks (L/MONO, R) (1/4 inch phone type)
Headphone jack (Stereo 1/4 inch phone type)
PEDAL jack (TRS phone type)
MIDI Connectors (IN, OUT)
USB COMPUTER (supports USB Hi-Speed Audio/MIDI)
EXT Input jack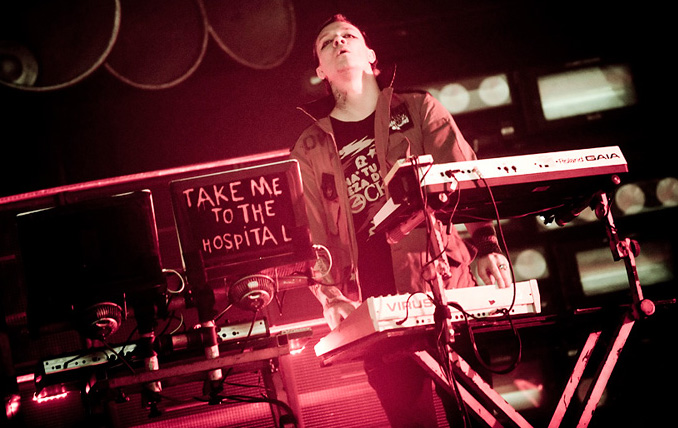 I bet this baby is a gift from Roland and Liam is now road testing it at live shows. As we know he has been a fan of SH-101 for years so this new piece of gear might stay on his synth rack for a while I think. This picture is from Pukkelpop 2010.