Samples used in solo works
A comprehensive list of samples that The Prodigy members have used in their solo works.
Samples used by Maxim
Carmen Quesy
First Initial guitar (with a looped end and a revised tone) comes from the video The Animals "House Of The Rising Sun" (Album: Boom Boom - Best, Year: 1965)
Hell's Kitchen
First Marvin Gaye "T Stands For Trouble" (album: Trouble Man [?]). A very similar guitar is in "Suprize Packidge" Mixmaster Mike (Album: Anti Theft Device) (Of course, this track is not the source, but there is just the same sound)
Dominant Genes
First The Saint Orchestra "Return Of The Saint"
Second Salaam Remi "The Swarm"
Killing Culture
First Intro to the song comes Z. .. TV series "Buffy The Vampire Slayer"
Hadrian's Wall
First The sentence is uttered in a whisper the same sample (only slightly trimmed) as in "Sin City"
Factory Girl
First Guitar comes with the original version of the Rolling Stones
Sin City
First Includes sample of the "Worried Life Blues" The Animals
Second Includes sample of the "Let My People Go" Darando.
Samples used by Flightcrank / Longman
Dreamer
First Vocal "Rolling with this one" comes from "CREAM" Wu-Tang Clan'u
Smoker
First Beat comes from "Funky Drummer" James Brown
Second The vocal "I'm the joker, I'm the smoker" comes from the HiJack "The Badman is Robin" (album: The Horns Of Jerico, Year: 1991)
What U Need (Genaside II Mix)
First Beat comes from "I Wish" Skilo
See also
---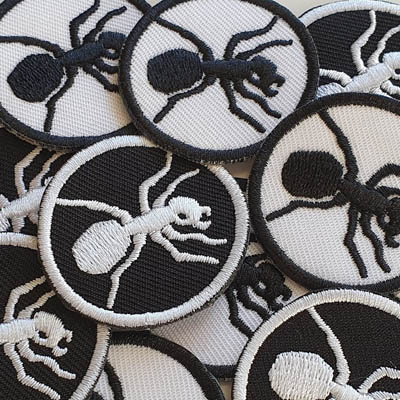 The Prodigy Circle Ant embroidery patches
» Buy patches here!
---
Related articles
01 May 1992 | The Music Technology Magazine
The Lone Raver
01 Feb 1993 | Future Music
Prodigious talent
08 Sep 1993 | Hot Press
Welcome To The Techno-drome
01 Oct 1996 | Sound On Sound
Liam Howlett • The Prodigy & Firestarter
16 Aug 1997 | Melody Maker
Shrink Rap
11 May 1999 | Toronto Sun
Prodigy tries sex in space
15 May 1999 | Toronto Sun
Decline of the Jedi Knights
19 Nov 2005 | Nekozine
Interview with Liam Howlett after The Prodigy's show in Copenhagen
23 Mar 2009 | Time Out Dubai
Prodigy: Track-by-track
08 May 2010 | Hot Press
Leeroy Keeps Swinging
04 Dec 2012 | MTV Hive
Dissecting the Prodigy: 25 Samples Behind 'The Fat of the Land'
19 Jul 2018 | EXCLAIM!
The Prodigy Announce 'No Tourists' LP, Share New Song
30 Nov 2018 | The Sun
Still starting fires
31 Jan 2019 | Decoded Magazine
Sampling the Sex Pistols, dissing koalas and never taking your foot off the gas: we crank the froth-o-meter up to full with The Prodigy's Liam Howlett
05 Mar 2019 | The Independent
Keith Flint death: The story behind 'Firestarter' – The Prodigy's first number one and their most famous song
27 May 2020 | The Guardian
The 100 greatest UK No 1s: No 8, The Prodigy – Firestarter