Time Out Dubai
Prodigy: Track-by-track
23rd March 2009
James Wilkinson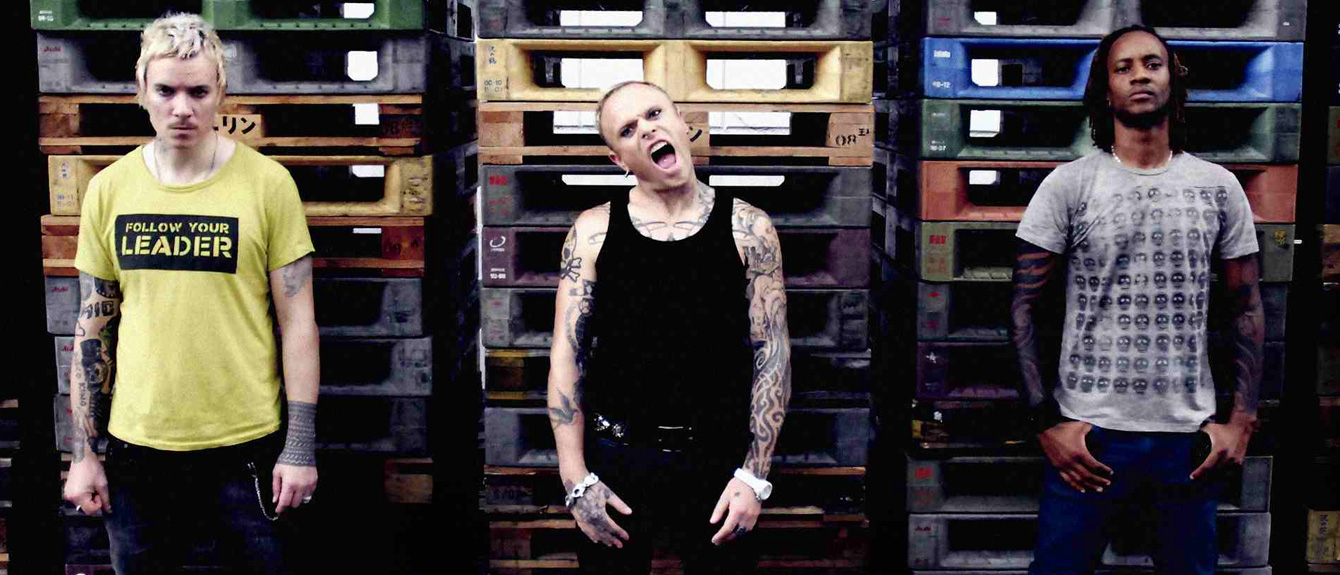 The Prodigy's Maxim, Keith and Liam give Time Out a track-by-track analysis of their latest album, Invaders Must Die
Liam: 'Three years ago there was quite a bit of paranoia – people were infiltrating our unit, starting to bleed into what we were. Can't remember whether it was Keith or Maxim, but one of them went, 'F*** it – invaders must die!' I was like, that's the album title right there. We're not f***ing around, man. We are The Prodigy…!'
1 'Invaders Must Die'
Liam: 'The first tune on any Prodigy album has to be got to be something that just smacks you 'round the head. It's a very abrasive-sounding electronic track, kind of different to anything we've done before. I had the track 60 per cent there and hooked up with James from Does It Offend You, Yeah? and he pulled the missing links out of the bag.'
2 'Omen'
Liam: 'It's a tune we love. Very anthemic, more melodic than our usual stuff and kind of like 'Breathe' [from The Fat Of The Land], with its seething energy. 'Omen' is typical of how we worked on this album: we'd do something and then come back to it a few months later.
3 'Thunder'
Maxim: 'I gave Liam a CD of [Jamaican label] Studio One and he found this vocal by The Brentford Allstars. He got a vocalist called Brother Culture to record it with a new melody and different words.'
Liam: 'Yeah, we ripped the vocal off from the original, 'cos that's our business, that's what we do. We're pirates – we steal things and make them our own.'
4 'Colours'
Keith: 'One of the first tracks that we felt started to get the sound we were looking for. Until then we'd been writing lyrics first, music second, but we realised that wasn't the way of the band. The energy comes from the music first, from the danger of the beats and the bassline.'
Liam: 'It has a Stranglers' 'No More Heroes' feel.'
5 'Take Me To The Hospital'
Liam: 'Straight up buck wild! Taking inspiration from early Prodigy but spitting out in a 2009 style. This tune is a car crash of all three of our personalities and inspirations: Keef's unhinged vocal, Maxim's '91 East London warehouse ragga s*** and my bomb-squad inspired production.'
6 'Warrior's Dance'
Liam: 'This was the turning point of the record. I was having problems with the album about halfway through and we just decided to write this to play live at one gig. We never thought we'd use it again. It's a total look back to 1990-91 rave era.'
7 'Run With The Wolves'
Keith: 'A track that Dave Grohl got involved with. He said, 'Listen, I'm just going to go in the studio and put down some drums,' which he did. Out of that came this.
Liam: 'I think you were angry the day you wrote this weren't you?'
Keith: 'Yeah I was.'
Liam: 'Yeah, it was definitely written about a certain someone. We don't know who it is, but Keith does.'
Maxim: 'Was it about me?'
Liam: 'Nah, don't get paranoid. Ha – when I listen to this tune I just want to smash my head against the wall. I like when the riff drops in – it's just violent, you know?'
8 'Omen Reprise'
Liam: 'It's the only breather on the album. It's an orchestrated version of 'Omen' but it reminds me of Scarface. It's got this '80s Vangelis sound.'
Keith: 'It's like a dark Blade Runner. When I listen to it I hear rain and… yeah, definitely a Vangelis vibe.'
Liam: 'Not that Vangelis is cool.'
9 'World's On Fire'
Maxim: 'We started working on this about eight years ago. It's had about 30 versions since then. None of them seemed to work, but we kept going back to it. I was always on Liam's case about it.'
Liam: 'Some of the old ravers out there might recognise the sample in it: it's Outlander's 'Vamp', which was a huge influence on me.'
10 'Piranha'
Maxim: 'This song was a perfect chance to do different vocal ideas rather than monotone. I tried injecting more melody into the vocals.'
11 'Stand Up'
Liam: 'This is like when you go out and the DJ will tease you with one last tune, something warm and uplifting. I think people will go, 'Is that The Prodigy or isn't it?' It's got this real victorious feel. It's like being wrapped up in a warm blanket before you f*** off home.'

Invaders Must Die is available in stores now