Samples used in remixes by The Prodigy
Here is a comprehensive list of samples that The Prodigy have used in their remixes to other artists.
---
Method Man - Release Yo 'Delf (Prodigy Mix)
Sample: the sound of bongos at the start
Taken from: Graham Central Station's track called "The Jam" that can be found from Ain't No Bout-A-Doubt It (Warner Brothers 1975) album.
Sample: Beat
Taken from: Chill Rob G - Court Is Now In Session
Sample: Horn Sample
Taken from: Ennio Morricone - Il Colpo
Includes also sample of the "Vicious" Black Mamba. The original track and the remix contain the same ringing sound as the "Claustrophobic Sting" and "Live Beats"
---
The Magi And Emanation - Everybody Say Love (Prodigy Mix)
Sample: the first beat
Taken from: "Amen Brother" The Winstons
Bug Kann & The Plastic Jam - Made In Two Minutes (Prodigy Mix)
First Has the same beat (single shot, distorted) as in "Casanova (Prodigy Mix)"
The Art Of Noise - Instruments Of Darkness (The Prodigy Mix)
First It contains the same "Ouuu" what the G-Force
Dream Frequency featuring Debbie Sharp - Take Me (Prodigy Mix)
First Beat comes from "Radio Babylon" Meat Beat Manifesto
---
The Time Frequency - Retribution 93 (The Prodigy Meets TTF)
Sample: Vocal 'These guys are dope and they're doper than dope'
Taken from: The Dynamic Guv'nors - "These Guys Are Doper Than Dope (Junglestic Remix )" (Summerdub, 1992)
See also
---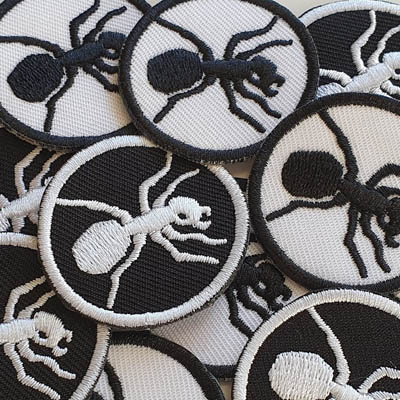 The Prodigy embroidery patches pack
» Buy patches here!
---
Related articles
01 May 1992 | The Music Technology Magazine
The Lone Raver
01 Feb 1993 | Future Music
Prodigious talent
08 Sep 1993 | Hot Press
Welcome To The Techno-drome
01 Oct 1996 | Sound On Sound
Liam Howlett • The Prodigy & Firestarter
16 Aug 1997 | Melody Maker
Shrink Rap
01 Mar 1999 | Select
DJ is a God
11 May 1999 | Toronto Sun
Prodigy tries sex in space
15 May 1999 | Toronto Sun
Decline of the Jedi Knights
19 Nov 2005 | Nekozine
Interview with Liam Howlett after The Prodigy's show in Copenhagen
23 Mar 2009 | Time Out Dubai
Prodigy: Track-by-track
08 May 2010 | Hot Press
Leeroy Keeps Swinging
04 Dec 2012 | MTV Hive
Dissecting the Prodigy: 25 Samples Behind 'The Fat of the Land'
19 Jul 2018 | EXCLAIM!
The Prodigy Announce 'No Tourists' LP, Share New Song
30 Nov 2018 | The Sun
Still starting fires
31 Jan 2019 | Decoded Magazine
Sampling the Sex Pistols, dissing koalas and never taking your foot off the gas: we crank the froth-o-meter up to full with The Prodigy's Liam Howlett
05 Mar 2019 | The Independent
Keith Flint death: The story behind 'Firestarter' – The Prodigy's first number one and their most famous song
27 May 2020 | The Guardian
The 100 greatest UK No 1s: No 8, The Prodigy – Firestarter