Mackie CR 1604 Mixer
This mixer is designed for maximum flexibility. It features 16 XLR Mic, 1/4" Line inputs. It is perfect for larger exhibit booth demonstration areas. The 1604 is also an excellent choice for meeting applications where a number of mics, and audio sources need to be mixed together.
Used:
Liam always uses this mixer in live shows.
Liam's comment:
"I take a Mackie 1604 out live. As far as I'm concerned, Mackie are the best desks for dance production. I had a Tascam 32 channel, and I sold it to Shades Of Rhythm, and I had done as much as I could do with it. Mackie has much more headroom. I went from a 16 channel Mackie to buying that Tascam and after a year, I still couldn't get a good sound out of it. So I went back to basics - like two 16 channel Mackies. Then I was happy again!" .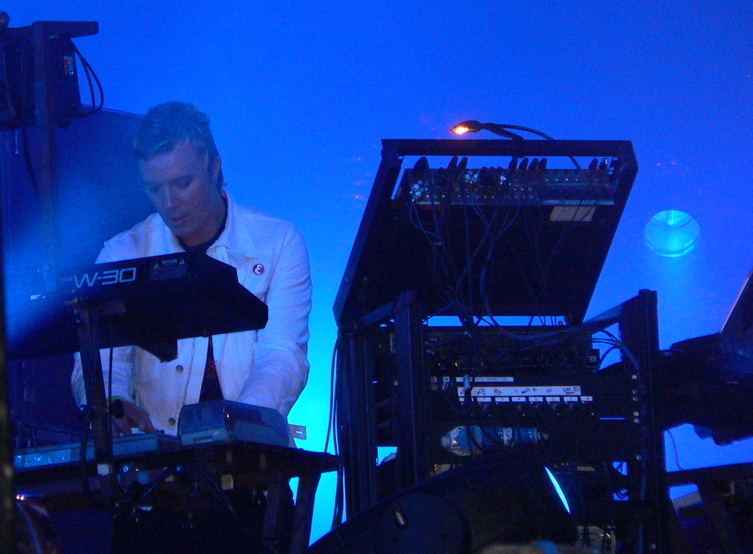 This picture is from 2005 and you can spot Mackie 1604 on top of his rack.
Inputs
Channels 1-16 XLR Mic, 1/4" Balanced/Unbalanced Line Level
Insert 1/4" Balanced/Unbalanced Line inputs
Other inputs
Tape in (dual RCA) Main Insert (L & R)1/4". Balanced/Unbalanced line level
(4) Aux returns (L & R)1/4". Balanced/Unbalanced line level
Outputs
Main outs Left, Right, Mono 1/4" Balanced/Unbalanced Line Level
(4) Sub Outs 1/4" Balanced/Unbalanced Line Level
Other outputs
Tape record out (dual RCA),
(6) Aux sends 1/4" Balanced/Unbalanced line level (8) Direct Outs 1/4" Balanced/Unbalanced Line Level
Width
442mm (17.3")
Depth
447mm (17.6")
Weight
9.1kg (20 lb)
Power Requirements
120V 60hz 50w