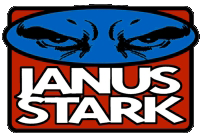 Gizz Butt & Janus Stark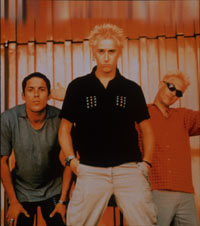 Prodigy ex-Live guitarist Gizz Butt has got his own band Janus Stark (formerly called English Dogs). Their music is not like Prodigy music. Maybe you can say it is melodic punk or hard rock. Listen and then you will know. There are lots of energy and the sound is pretty raw. And the lead singer is Gizz Butt! He also writes the songs and plays the guitar. They have released one album so far, called Great Adventure Cigar. The album was released in Europe in May 1998, and in the US October 13, 1998.
The band (Gizz Butt-vocals/guitars, Shop- bass, and Pinch- drums) has been together since the early '80s, touring the world and releasing albums under the name English Dogs. After releasing several independently released punk classics, the band folded in the late '80s due to the fact that the punk scene in England was growing more and more violent (with unwanted neo-nazi skinheads bullying around the punk regulars). While the members kept themselves busy playing in other bands, they kept in contact, ultimately deciding to resurrect English Dogs in the mid-'90s, due to a resurgence in punk rock (thanks to Nirvana, Green Day, Offspring, etc.).
But before they could ink a deal, guitarist Gizz landed a gig as part of alterna-dance thrashers Prodigy, appearing on their 1997 mega-hit The Fat of the Land, and touring massive stadiums with the band for a year solid. After signing with Trauma records the same year, the band was forced to drop their moniker (since the Queen of England has to sanction the use of the word "English" in anything registered), finally deciding on Janus Stark, the name of an obscure comic book character from the '70s. 'Great Adventure Cigar' followed soon after, showing that the band hadn't lost their punk rock edge in the lightest. The band split up in 2002.
In 2003, Butt formed The More I See, a five piece thrash metal band.
In 2012, Butt reformed the English Dogs to tour the US, with the band's earlier material. Following The Unholy Feast, Tread the Darker Path and The Wolves Are Hungry, The More I See have also recorded a fourth album, due to be released in early 2013.
"Janus Stark take their odd name from a 1970's comic book character. As an alternative, Gizz offers up a more startling meaning; "Janus is the name given to the computer controlling the British defense system. It was a coincidence really but it brings to mind raw, naked dangerous power. " Move on to the obvious next question - "Who are Janus Stark?"

(Earache Records)