Moog Prodigy
Made by: Moog Electronics (USA) from 1979-1984
Release date: 1979
Type: Monophonic Analogue synthesizer
Designed by: Rich Walborn, Tony Marchese
Original price: £295
Current price: £225
About:
This was the very first synth that Liam bought. He just purchased a keyboard with the intention of making a few songs for fun. It inspired the name of band whilst recording their first demo tape. Liam wrote the name "The Prodigy" to the demo tape that he gave to Keith and Leeroy. But now the Moog have now gone bust, but 11000 Prodigy's were produced from 1979-84 so you shouldn't have any problem finding one.
Gear info:
Probably Moog´s biggest selling synth next to Minimoog. Unlike many other Moogs that are being sold this was truly a performance keyboard not a novelty toy. If you want that fat analog sound that is becoming very popular again this is it. Dual Oscillator/Triple Waveform each Osc. Has both Filter and Loudness contour controls.
The Prodigy is a simple, dual-oscillator analogue monosynth with a single filter and two three-stage envelopes. It also has oscillator sync. As a beginner's analogue keyboard, though, it's clearly laid out and easy to use. It's used commonly in techno-electronica. Pretty handy for that 'fat' bass sound that you can't quite get from anything other than a Moog. Also great for making weird effects, leads, and percussion sounds.
This keyboard will do everything from Full Out Analog Bass Lines to Screaming Techno Synth sounds to Monster Leads. Not at all a bad synthesizer, but very limited in programming and flexibility. And the first models had no external control inputs. The Prodigy is not the best Moog ever made, but it was particularly successful in the UK.
It has been used by many other artists such as Depeche Mode, Blur, The Album Leaf, Fatboy Slim, 808 State, Trent Reznor, Astral Projection and Moloko.
Used:
Liam has used this machine in all his first tracks! Nowadays you can still sometimes see this machine in live shows.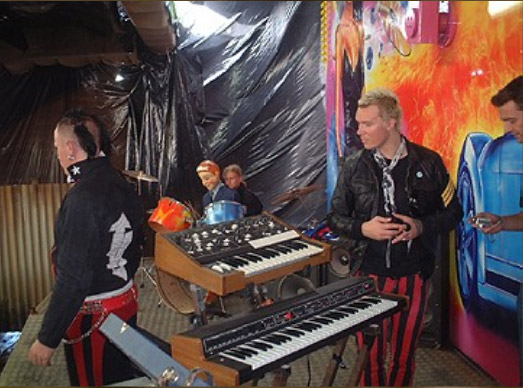 Liam with Moog Prodigy and Roland VP-330 Vocoder Plus at Baby's Got A Temper video shooting in 2002.