Akai S1100 sampler
The Akai S1000 is a 16-bit professional stereo digital sampler, released by Akai in 1988. The S1000 was among the first professional-quality 16-bit stereo samplers. Its abilities to splice, crossfade, trim, and loop music in 16-bit CD-quality sound made it popular among producers of this era. The S1000 also had the ability to "time-stretch", a feature that allowed the music's tempo to be adjusted without its pitch being altered.
The advent of the S1000 paved the way for Jungle music, which later evolved into Drum and Bass. The ease with which it could be used and the high sound quality that it produced created an evolution from the rougher Hardcore genre that preceded Jungle.
The S1100, released in 1990, is an expanded and enhanced version of the S1000.
Used:
In 90s Liam used to have all the live stuff stored in two Akai S1110 samplers. These babies can be seen in his old equipment rack that he used for live shows. These samplers were also used heavily in the studio back then.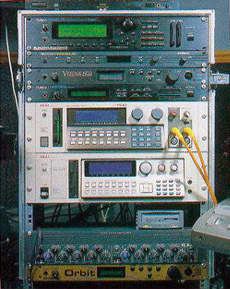 Liam's old rack setup from 1996
| | |
| --- | --- |
| Sampling System | 16 bit linear |
| Sampling Rates | 44.1 kHz / 22.05 kHz |
| Memory | 2 MB (standard) / 32 MB (expanded) |
| Polyphony | 16 |
| Maximum Samples | 200 |
| Maximum Programs | 100 |
| Recording Gain | HI = -58 dBm / MID = -38 dBm / LOW = -18 dBm |
| Filters | Digital moving low-pass filter (-18 dB/octave) |
| Envelope Generators | 2 ADSR |
| LFOs | ?? |
| Hard Disk Recording | Hardware upgrade (optional) |
| Effects | Available |
| Display | Back-lit 40 x 8 characters (640 x 240 dots) |
| Help Pages | Not available |
| Storage Devices | 3.5-inch 2HD/2DD floppy disk |
| Standard Inputs | XLR (balanced) x 2, 1/4-inch phone jack (balanced) x 2 |
| Standard Outputs | 1/4-inch phone jack (unbalanced) x 2 |
| Assignable Outputs | 1/4-inch phone jack (unbalanced) x 8 |
| Effect Send | 1/4-inch phone jack (unbalanced) x 1 |
| Headphones | 1/4-inch stereo phone jack x 1 |
| Footswitch | 1/4-inch phone jack x 1 |
| MIDI | DIN-5P IN x 1, OUT x 1, THRU x 1 |
| SCSI | Provided |
| AES/EBU Digital In/Out | XLR (RS-422 level) x 1 (optional with IB-104 interface) |
| SMPTE Reader/Generator | 1/4-inch phone jack (balanced) x 2 |
| Power Requirements | 120VAC 60Hz 40W / 220-240VAC 50Hz 40W |
| Dimensions | 483mm x 133mm x 425mm (W x H x D) (EIA 3U size) |
| Weight | 10.1 kg |
More info: Akai Pro homepage