Kerrang!
Playing With The Prodigy To Partying With Pantera: Jim Davies Is Most Notorious Guitarist You've Never Heard Of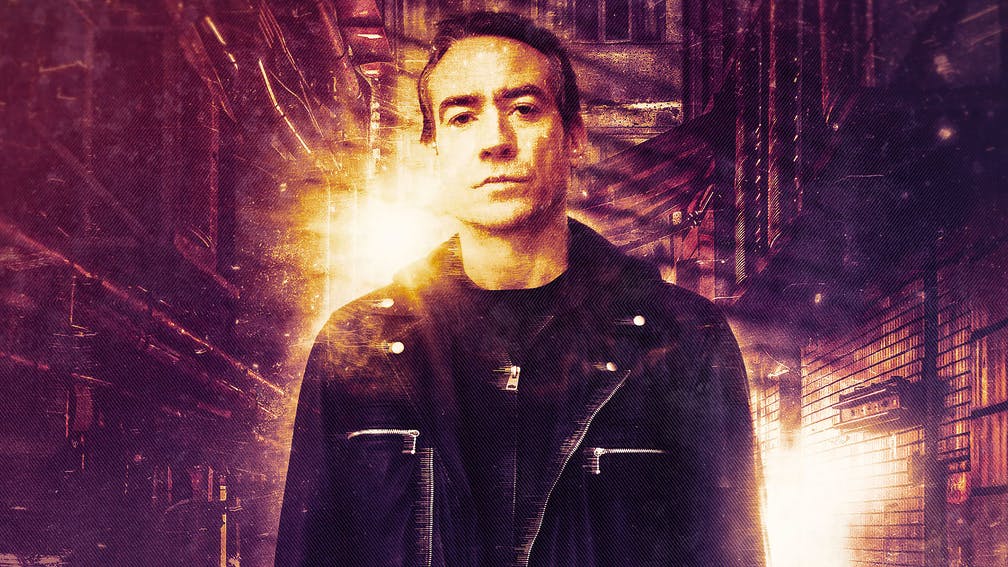 You might not know Jim Davies' name, but you know his music, and now you know his wild life in rock
If ever there was a perfect time to release an album with absolutely no intention of touring, then it would be now. It's not as if anyone else is playing gigs. But for Jim Davies the reasons for not touring his latest solo offering – the aptly-named and eclectically outstanding Headwars – have nothing to do with the COVID-19 lockdown. Put simply, he's been there and done that, touring the world and headlining some of the biggest festivals (from Reading to the Big Day Out to Ozzfest), while also playing on some of the biggest selling records, including two international Number One singles. Perhaps the most influential guitarist you've never heard of, he sees no reason to return to small clubs and "the anxiety of ticket sales." Having later carved a successful career in TV and movie soundtracks, he now makes music for its own sake.
"I've played on a couple of big tracks," he shrugs, "but I don't want to think that defines me as a guitarist, playing on those tracks 20 years ago. That would be really sad.
"I'm not sure I'd agree with being influential," he adds modestly. "There's not many guitarists in the electronic field, so I haven't got much competition."
Those 'big tracks', in case you're wondering – and for 'big' read 'colossal' – were The Prodigy's Firestarter and Breathe. From there Jim went on to join Pitchshifter, contributing to three of their most successful albums. Pretty impressive stuff for a kid who was playing in a dodgy punk band called Dead Man's Pants, blagging his way into The Prodigy by handing electrowizard Liam Howlett a rough demo of himself playing over the top of Prodigy songs.
"When you're young, you don't give a fuck," Jim smiles. "I just remember giving them a demo tape and thinking they probably won't get back to me, but why not?"
The year was 1995 and Jim was already way ahead of the curve; he was one of the first to see The Prodigy as anything other than a dance band. Within weeks he was on the road with them, and was onstage for their legendary Glastonbury show, headlining the second stage.
"I know 21 isn't that young for a lot of people, but I was nowhere near ready to be chucked in at that level," he admits. "They were an amazing band and I was massively into [1994 album] …Jilted Generation, but it was like, this must be how it normally happens – you give your favourite band a demo and before you know it you're on tour for a year.
"I don't think I was ready for it. Before I started playing with them I'd only ever done gigs at university, so it opened up a lot of doors, but it caused a bit of a headfuck. Looking back, that was the break that got me into music, and I don't know what would have happened without that, but sometimes I look back and just cringe. I wasn't thinking about image or thinking, 'This band is about to be fucking huge and kick off'. I was just obsessed with Pantera, and to me, they were an electronic version of Pantera."
While never officially a member of The Prodigy, Jim found himself in the bizarre position of still working with them despite being replaced as live guitarist, but it wasn't long before he blagged his way into another favourite band (via another demo tape) in 1998. Invited to guest on the then-new Pitchshifter album, www.pitchshifter.com, he went to Nottingham to record a couple of tracks and ended up staying on frontman Jon Clayden's sofa for two weeks as an official band member.
"With Pitchshifter," he says, "it felt like I'd found a home for all these sounds I had that I knew I wouldn't be able to get out with Liam, because, let's face it, he doesn't really need any help.
"After Prodigy, I didn't know what to do. It did my head in for a long time. I felt like, fuck me, is that it? I've had my 15 minutes. Is that gonna be it? But with Pitchshifter, again, it was just a blag, being young and stupid and having the balls to go, 'I'd love to be in your band.'"
Between the two bands, Davies has enough tour stories enough to fill a book, although he cringes at his lack of 'cool' when meeting his musical heroes.
"I wasn't cool at all," Jim laughs. "I was still going down to breakfast like, 'Fucking hell, that's Tom Morello!' I was a complete fanboy! I cornered him one night in the hotel bar, absolutely wankered, asking how he got all these sounds. Not cool at all. And I remember going for a piss and Perry Farrell came in and stood next to me. He's like, 'Hey, I've got this great concept for our shows in America; we're gonna have a big bird seed trough on stage, and we're gonna release loads of doves while we're playing, so they can all come down and feed.' I'm having a piss, going, 'Yeah sounds good, Perry. Go for it!' All these weird situations would happen all the time."
At Ozzfest 2000 with Pitchshifter, meanwhile, he shared a stage with the likes of Ozzy, Soulfly, Queens Of The Stone Age, Methods Of Mayhem and Pantera – watching the latter every night from the side of the stage.
"Ozzfest was insane!" he grins. "I ended up on Tommy Lee's tour bus, because he was obsessed with The Prodigy, and next thing you know, he's on the subject of Pammy, telling me all these stories about how she busted him for drinking when he wasn't supposed to. I'm like, this is insane; I've cranked one off over your missus so many times as a teenage boy, and now I'm sitting on your bus discussing your relationship with her!
"Then there was this gig we did at Red Rock Canyon. The gig's at the top of the canyon, but the buses are at the bottom, so halfway through the day all these bands started congregating around the top of the canyon, and there's Tommy Lee shagging this bird on top of his tour bus, thinking no one would know."
One night in particular, Ozzy threw a party but there was no booze as he was on the wagon. Instead, word got around that Pantera were throwing their own party…
"It was absolute mayhem," laughs Jim. "The last thing I remember is Zakk Wylde driving a forklift truck loaded with beer through the dressing room. They destroyed the dressing room, and stuff like that would happen every day!"
When Pitchshifter went on hiatus around 2002, Jim found himself doing another stint with The Prodigy, plus playing on 2004 album, Always Outnumbered, Never Outgunned. He also worked with vocalist Keith Flint on his punk side-project, Flint, playing a handful of gigs, including Download in 2003. But with maturity came a rethink about where he was going, and Jim began concentrating on solo albums and session work.
"Bear in mind, I'd been playing in bands at quite a high level since I was 21," says Jim. "I didn't want to be doing bands in my 50s and 60s, so I ended up doing film and TV – still doing the music I enjoyed but without having to tour. Back then, I was only ever a guitarist, but over the last 10 years, I've learned how to produce and mix, and that why I wanted to do this album. For the first time, I've done something entirely myself. Obviously, I was always going to go back to the electronic rock stuff, because that's what I'm into, but I think the album sounds quite different."
As such, the new album, Headwars, is a culmination of experience and talent: a bold mix of rock and electronica, that features his old Pitchshifter band mates MD Clayden and Jason Bowld (now with Bullet For My Valentine). The title, however, refers to the internal struggle of self-doubt and overanalysing the past – the aforementioned headfucks of the former bands.
"The album sounds exactly how I wanted it to sound," says Jim, "and there was no pressure, because I knew I wasn't going to do any gigs. But, yeah, I did my own head in, like, maybe I could have done that better.
"I used to beat myself up about it, and it got to the point, about a year ago, where I had to go and see this life coach. I'd built this successful career, but I felt like a lot of stuff was unresolved. He was like, 'You're living in the past and you have to let it go.' It was a headfuck for me playing on those massive singles, being so young, but he's like, 'You should look back on it as something really cool.'
And indeed it is, Jim, indeed it is.
Headwars is out now.