ABC
The J Files: The Prodigy
5th March 2015
Dan Condon
Chapter 1
Not Rave, Not Punk
There has always been something very different about The Prodigy. A difference that goes well beyond the frightening appearance of vocalist Keith Flint, who has always looked every bit the wild, nightmarish character he sets out to portray. The UK group - which is centred around Liam Howlett's intense music with Keith Flint on vocals and Maxim Reality as MC/beatboxer - has never fit into a clear genre, either.
While the band was born out of the thriving UK rave scene of the early '90s, they had to bring in new musical elements as that scene burnt out as quickly as it became popular. The band positioned themselves as a rock band and soon became unhappy with being lumped in with other rave acts. Their attitude and aggression gave them a punkish edge, while their association with electronic dance music commonly had them mislabelled as a techno act.
We're like the stage divers that never get chucked off.

Keith Flint
"I don't think you can sum it up that we went from rave to punk," Keith Flint told a fan who called triple j in 1997.
"We don't feel like we changed from rave – because we were never rave – to punk – because we're not punk. We have punk elements; it's not just as blatant as piercing your nose and sticking your hair up, it's the attitude of the band, the aggression. Getting up there and doing it. The fact that we're not all trained musicians or trained dancers. We're just people who've got up there. We're like the stage divers that never get chucked off."
The ultimate goal, group founder and lead songwriter Liam Howlett said, was for the band to be able to play on just about any major bill.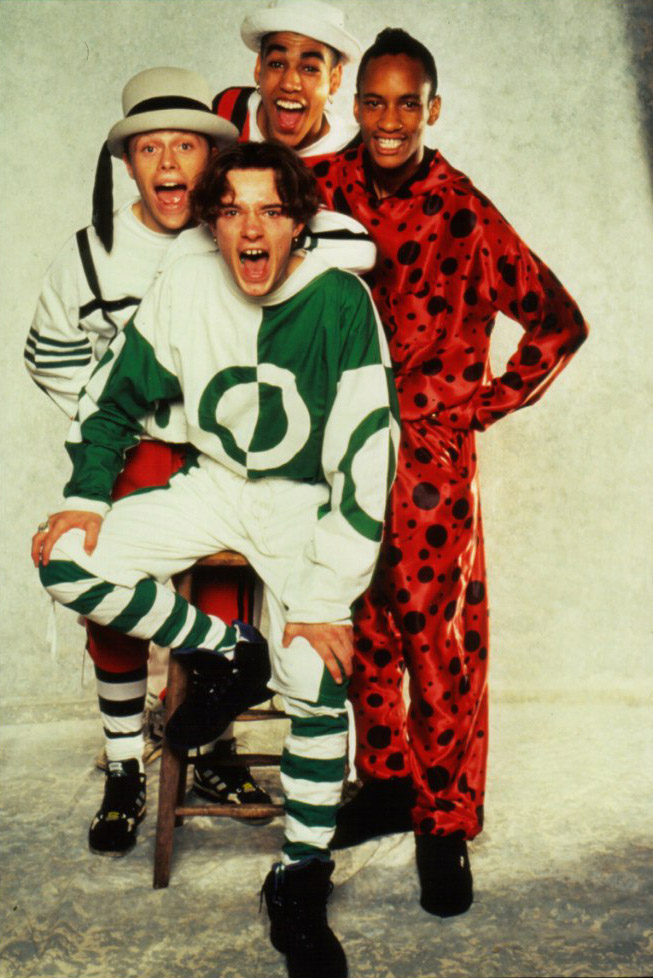 The Prodigy in an early '90s promo photo. Keith and Leeroy (left and top) were originally dancers while Maxim (right) MCed and Liam (front) played keyboards/samples.
"By the time we played the second album live, we were already doing festivals," he told Dom Alessio in 2013. "Once Fat of the Land came out, we were mainly doing festivals and promoters had opened their eyes to us. We'd shown that dance music has a place on any stage next to any band."
Howlett has commonly said that he felt more of an affinity with American hip hop than he did the rave and techno music of the 1990s.
"I've always liked using samples and manipulating sounds. I'm still like a hip hop DJ at heart really," Howlett told Alessio. "I'm more of a beat thief, if you like.
"The way hip hop was built on '70s beats and '70s break beats and stuff like that, that was always our inspiration from the beginning. The grooves and the non mechanical sound. We don't really like things that sound too rigid."
"People used to always call us techno, we always used to try our hardest to say 'We're into techno. We have respect for people who make techno. Listen to this stuff that comes out of Germany or Belgium.' We spent a lot of time trying to get people to understand that we didn't want to be labelled as that."
They played dance music, but The Prodigy didn't identify with a lot of their contemporaries in the UK dance scene.
"We were trying to present ourselves as a band," Howlett told Alessio. "A lot of dance music needs to be presented in a kind of DJ format. But that never worked for us, right from the start. We weren't ever interested in being a band like Orbital or something like that. We were into the Beastie Boys and we were into Public Enemy. We wanted to be more in people's faces."
Chapter 2
They Are The Ruffest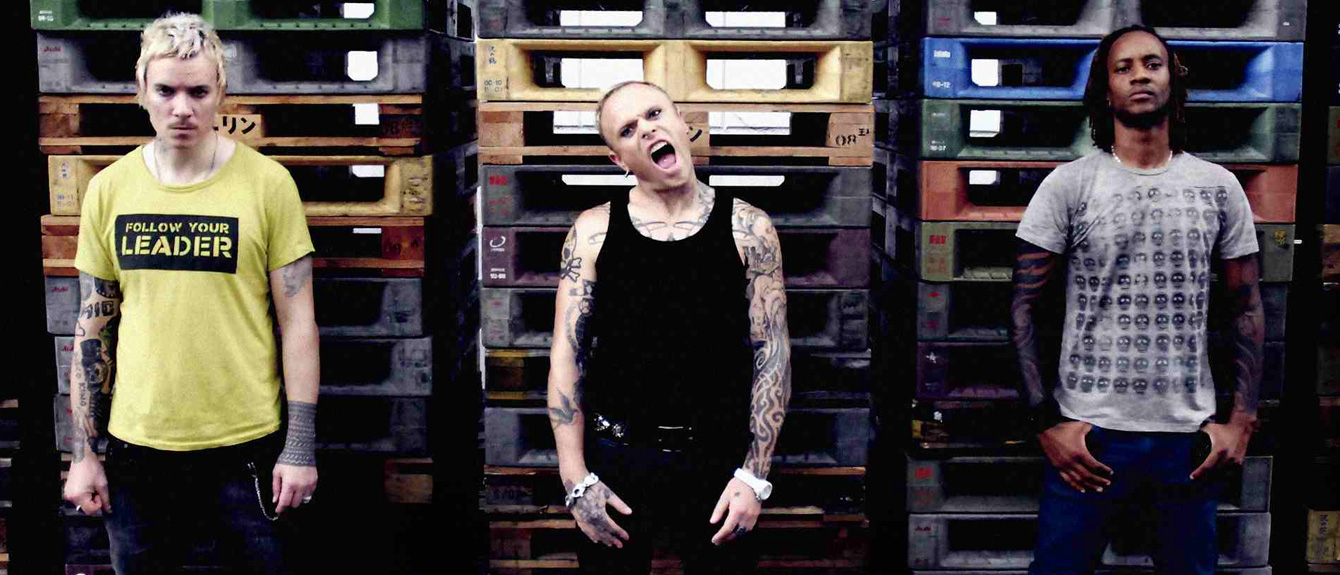 This association with hip hop was responsible for some of the biggest controversies to befall the band in the '90s. The most obvious of these was the furore that surrounded the opening track of their 1997 album The Fat of the Land, 'Smack My Bitch Up'.
"It's a good song and it represents what we're about at the moment," Howlett told Michael Tunn in 1997. "There's a lot of confusion over the title obviously, but we don't really care. We know what the song is about and the song gives us energy on stage. For us, it represents the sound.
"It's almost a tribute to gangster rap or hip hop or something like that. It's a tribute to the harder side of hip hop really, from an electronic angle."
Howlett was adamantly unapologetic about 'Smack My Bitch Up', saying that anyone associating the song with violent acts was misunderstanding it entirely.
"People have got to be pretty silly to think that we're writing records about smacking women up," he said. "It's like 'Firestarter', the record was not about starting fires.
People have got to be pretty silly to think that we're writing records about smacking women up. It's like 'Firestarter', the record was not about starting fires.

Liam Howlett
"I'm not one of these people who goes around trying to apologise for music that I've written. When I wrote it, I wrote it because I like the sound, I got a vibe off the sound I was producing. I wasn't trying to be controversial by putting those lyrics in there, I'm not like that."
This isn't the only controversy that followed the band. For quite some time in the 1990s, the importance of Flint and fellow The Prodigy members Leeroy Thornhill and Maxim Reality was questioned by some of the band's fans.
Flint addressed this when speaking to triple j callers in 1997.
"We're a unit," he said. "You get people trying to break things down and smash them up. But we're tight and we have the buzz off each other and that's what we roll on. I think people shouldn't comment on stuff they don't really know about."
Michael Tunn mentioned that Howlett is portrayed as "the brains" of the band.
"He probably is!" Flint said. "But Liam isn't about to shave his hair or do bits that other people do. We've all got a part. The Prodigy is The Prodigy and that's that."
Chapter 3
Fat Hits
The Prodigy's 'Firestarter' and 'Breathe' sound as vital and aggressive now as they did upon their release almost 20 years ago. Both were huge hits, but 'Breathe' resonated a little more with audiences at the time and Howlett prefers it to this day, he told Double J.
"I love it," he says of 'Breathe'. "We play it live most weeks and we never get tired of it. It's changed a bit over time, but it's basically the same song. Wherever we go it still has its place and people still love it."
Howlett said that the balance between music and vocal was somewhat off with 'Firestarter', which is why he doesn't hold it quite so dearly.
"The thing with 'Firestarter' is it has vocals all the way through it, it's more like Keith's performance," he said. "We usually find the music that works best for us is an equal balance between the music and the vocal."
'Firestarter' was released in 1996, almost a full year before the Fat of the Land album. While The Prodigy had enjoyed immense success with their second album Music for the Jilted Generation, this new style of songwriting and performance was the band's way of pushing into new sonic territories and keeping things fresh for themselves and their fans.
"When we dropped 'Firestarter', we hadn't done anything like that before. We were pushing the boat out to try something really different. By the time we came out with 'Breathe', we decided we didn't want to have a song that had vocals all the way through, without giving the music space to breathe.
The Prodigy: Keith Flint, Liam Howlett and Maxim Reality backstage in the triple j tent at the 2009 Big Day Out.
"We were always looking to push it forwards. The difference between ...Jilted... and Fat of the Land was we'd already started to transition into becoming more live orientated. We wanted to push the sound. I guess the live show sculpted some of that. Even from the first album to the second album, that was kind of a jump for us.
"But I think when you listen to all three records, you can hear the progression. It was mainly the live thing which sort of moved the sound on. It's still got the attack of ...Jilted Generation but it has more urgency."
The searing guitar riff that opens 'Firestarter' was undoubtedly a sign that The Prodigy were interested in incorporating punk rock elements into their sound. But there was another, perhaps unexpected, rock band influencing the sound as well.
"Firestarter was the first track I was writing for the new record. Jim [Davies], who was our guitarist then, I got him around and go him to play that riff. We were listening to the Foo Fighters' first album, there's a couple of tracks on that which I really liked, which had an energy. We were referencing that and referencing old punk rock stuff."
Howlett's initial plans for the song were very different to how it ended up.
"It was going to be an instrumental, actually, it was going to be the opening track on Fat of the Land. Keith came around and he's like 'Man, if ever I'm going to pick up a mic I've got to do it on this track. I want to do a vocal on this track'. So it was really him who led the idea of it being a vocal track. Before that I was pretty certain it was just gonna be instrumental."
The addition of vocals to their sound was a very big deal for The Prodigy, so they spent plenty of time ensuring they got it right.
All the lyrics were written about his sort of twisted mind, really.

Liam Howlett
"We started talking about what Keith Flint's first vocal should be like. Basically, he wanted to introduce everybody to himself and his personality. So all the lyrics were written about his sort of twisted mind, really. Because we'd never written a vocal track before that, we ended up writing so many lyrics for it that the whole thing was covered. I ended up having to strip half of the lyrics out.
"The 'Firestarter' hook, the way that came about, it was in the list of one of his descriptions of things. I just plucked it out because I thought it just summed him up."
The band took the song to the live stage with the confidence and bravado you'd expect, and their fans responded accordingly.
"I remember the first time we played it live," Howlett recalled. "I remember seeing Keith's face before we went on stage and it was like 'Right, I'm in now. Here we go'. You don't know how people are going to react, but we had so much confidence about it that it was like 'We don't really care. We believe in this.'
"The reaction to the track, we'll never forget. There are certain moments that you don't forget. We've been going for years and a lot of it I can't remember. But that was one of the moments I will never forget. People just went mad. They understood it."
People continue to understand it to this day. The Prodigy remain mammoth festival drawcards, as evidenced in their current run on the Future Music Festival. They also continue to pump out music that gets people talking, with a new record, The Day Is My Enemy, out at the end of the month.
Given every record they have released since 1994 has topped the British charts and made the Australian top ten, it's safe to assume the band's yearning to stay relevant in an ever-changing musical landscape is working and no controversy is going to bring them down.
Source: https://www.abc.net.au/doublej/programs/the-j-files/the-prodigy/10274860