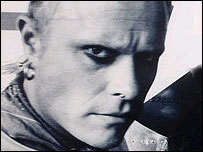 BBC.co.uk
Review: Clever Brains Fryin'
Keith Flint's band Clever Brains Fryin' kicked off the new Boutique residency at the Fez Club in Reading. BBC Berkshire's Clare Garnett was there to witness the madness (and the feathers). Read her review.
SET LIST
• LIVIN LIFE
• OOZY
• PLASTIC
• SOUL BEAUTIFUL
• HAPPEN AGAIN
• SUPERSTAR
• HARDRIVE
• BLACKOUT
• VEGAS
• IT WENT OFF


Just when it seemed Saturday nights in Reading were all about listening to Girls Aloud, John Travolta and Shania Twain, somebody suddenly decided to do something about it.
Welcome then to the launch of The Boutique at Reading's Fez Club. Starting from tonight, Brighton's hippest club night will be setting up a monthly residency and playing host to such DJ luminaries as Jon Carter, Kid Kenobi and Mylo.
This evening their offering comes from a DJ set by Atomic Hooligan followed by a live performance from the nation's favourite firestarter, Keith Flint, and his energetic new collective, Clever Brains Fryin'.
It's 11.45pm and the Fez is already comfortably full. Clever Brains Fryin' are scheduled to arrive on stage at midnight and over the course of the next 15 minutes the crowd virtually doubles in size. Nobody knows what to expect tonight but, one thing's for sure, expectations are high.
It's been a while since we heard from Keith Flint. Last seen in Reading two years ago, headlining the festival with Prodigy, his long awaited return has not come a day too soon.
Clever Brains Fryin' are MC Sir Real, MC Bad Manner, female vocalist Cherequi, turntabalist DJ Jason Laid Bare and, of course, Flint. Opening up their set with explosive tracks Livin Life and Oozy, the band deliver a sound both raw and polished. Mixing dirty breaks and cracked beats with dark and eclectic vocal thrashings they live well up to expectation.
If The Fat Of The Land had a renegade brother, this would be it. For there is no mistaking this distinctive Prodigy sound.
Tonight Flint is clad in a black sleeveless T-shirt with all the punk rock trimmings: tattoos, chains, feathers (yes, feathers) and customary piercings. Throughout the first few tracks the crowd's attention is naturally directed towards him but as the night progresses it's hard not to be distracted by the equally impressive talents of the other band members.
Happen Again and Superstar give MC Bad Manner and Cherequi the opportunity to move out of the sidelines and into the limelight. Cherequi does for Clever Brains Fryin' what Saffron from Republica did for Prodigy on Fuel My Fire. Edgy and energetic her caustic vocals complement the distinctive rawness of Flint with the hip-hop undertones of MC Bad Manner.
After performing eight tracks the band leave the stage but return a short while later to heavy applause. They finish their 45-minute set with Vegas and It Went Off.
"Peace and love Fez Club" shouts MC Bad Manner, "Make some noise for yourself, we came here to party tonight."
And party hard we did - safe in the knowledge we'll be back again next month to pick up from where we left off. At last, a night worth waiting for.