Sony DTC 1000 ES DAT machine
Specifications:
Type: digital audio tape deck
Track System: 2-channel stereo
Tape Speed: 8.15 mm/s
Recording Time: 120 minutes
Heads: 2000rpm, rotary
D/A Converter: 16 bit linear
A/D Converter: 16 bit linear
Sampling Frequency: 48, 44.1, 32kHz
Frequency Response: 2Hz to 22kHz
Signal to Noise Ratio: 92dB
Dynamic Range: 90dB
Total Harmonic Distortion: 0.0055%
Digital Inputs: coaxial
Digital Outputs: coaxial
Dimensions: 470 x 100 x 420mm
Weight: 12kg
Accessories: remote control
Used: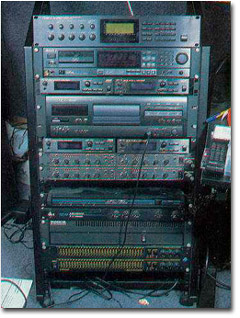 Sony DTC 1000 ES DAT can be spotted on 2nd on top of Liam's old rack setup from 1996.
Liam's comment:
"To play the whole set live would be impossible for us because we'd need about four operators and all the equipment, which I don't want to get into. We have a backing DAT live which has the body of the track with different bits left out so I can play live over the top. All the samples are played live, but not the main riffs in case something messes up!"