Clavia Nord Lead Virtual Analog Synthesizer
This baby used to be one of Liam's main sound sources on live. This synth can been seen on the top of his live synth rack. Before Nord Lead he used Roland SH-101. This was the very first virtual analog synthesizer! "Virtual analog" means it uses DSP algorithms instead of analogue oscillators, filters and so on, to fake and create that classic analog sound. So this is NOT a analog synth! It has all the modern digital/MIDI conveniences. Nowadays there is also Nord Lead 2. The only difference between the two is that the No: 2 has 16 voices instead of 4. But with the Nord Lead 1, you could buy a extra voice card you got 12 and plus some other features. The Nord Lead is like Liam's new Roland JP-8000, but the sound in Nord is more analogue and raw!
Liam Howlett of Prodigy in the interview in The Mix, October -98:
"I love the Nord. In my opinion it has set the new standard for analogue. The other three members all like it too - after all, it's nice and red. "
Used:
For the song "funky shit" he used the funky nord preset and also The Siren sound is tweaked Nord Lead Preset.
Release date: 1995
Type: Virtual analog synthesizer
Price: $1995.00
Specifications:
Voices
12 voice polyphony standard. 4 part multi-timbral. 4 part layering
Special features
Velocity programming: Each function, controlled by a knob, can be programmed to velocity.
Morphing: Each function, controlled by a knob, can also be controlled by the modulation wheel / pedal to continuously fade between two values.
Performance controllers
4 octave velocity sensitive keyboard with octave shift buttons (5 oct.), Modulation wheel, "Pitch Stick" (featuring no dead zone at zero crossing), pedal input for sustain or expression pedal.
User interface
2 digit display, 26 knobs and 19 buttons for program editing.
Oscillator section
Two oscillators generating triangle, sawtooth or pulse(with adjustable width) waveforms. Oscillator 2 can also generate nolse with a color control. Oscillator 2 can be hard "synced" to oscillator 1. Linear deep frequency modulation of osc 1 from osc 2.
Filter section
12 dB "2 pole" lowpass, 24 dB "4 pole" lowpass, bandpass or highpass. Cut off, resonance, envelope amount, envelope amount
controlled by velocity, keyboard tracking and ADSR envelope.
Amplifier section
ADSR envelope, gain control.
Modulation section
LFO 1: generating triangle, saw or random routed to Osc 1+2, Osc 2, filter or pulse-width.
LFO 2: produces a triangle waveform, routed to Osc 1 and 2 or amplifier. It also controls the rate for the arpeggiator.
Arpeggiator: Range: 1 - 4 octave. Modes: up, down, up/down.
Modulation envelope: (attack, decay) for osc 2 pitch or FM amount.
Arpeggiator and LFO's are MIDI Syncable.
Arpeggiator transmits notes externally.
Performance section
Play mode: Poly, legato, mono, unison mono, unison poly.
Manual mode: Four program slots for layering possibilities. Portamento / auto portamento.
Audio Out
Stereo output. Modes: Stereo, mono and multitimbral (A C + B D) mode.
Headphones out: Stereo 18 bit DAC.
Memory
40 user-programs, 59 factory programs, 10 Analog Drumkits(fully editable), and 100 factory performances.
With the 8 voice expansion card(comes standard) the Nord Lead can hold an additional 297 (99 x 3) user-programs and 100
user-performance programs on a PCMCIA 128 kilobyte RAM card.
MIDI features
All control knobs and switches for program editing send and receive Control Change messages.
System exclusive bulk dumps: One program or all programs.
MIDI clock synchronizing: LFO 1 and LFO 2/arpeggiator.
Triggering of the filter and amplifier envelopes and velocity control from separate programmable MIDI channel and note numbers.
Dimensions
865 (W) 265(D) 105(H) mm. Weight 6.7 kg
34.0"(W) 10.4"(D) 4.1"(H). Weight: 14.71bs.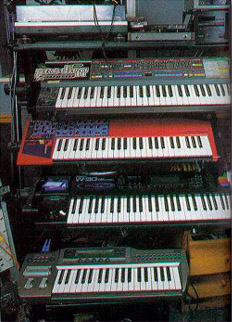 Liam's old synth setup with Nord Lead from 1996