A German made synthesizer which employs various synthesis techniques (currently VA, Subtractive, PD, FM and Wavetable(Ti) synthesis) which was first produced in 1997 and has since been upgraded frequently, with the company releasing new models about every two years.
Total Integration (TI) uses innovative technology to greatly expand the Virus Synthesizer, resulting in an advanced stage/standalone instrument, while simultaneously extending the product capabilities with a suite of compelling studio integration features.

Synth features include greatly increased polyphony, 2 new oscillator types, a per-patch programmable arpeggiator, 16x2 delay/reverb fx, embedded singles in Multi mode, and much more. The TI products link to computer with VirusControl, a companion software product which ports the hardware synth into a host sequencer for use as a sample-accurate VST/AU instrument, simultaneously offering 2-way audio and MIDI connectivity, control surface functionality, editor and librarian functions, and more.

The First Totally Integrated Synthesizer
A scalable USB link connects the Virus to a Mac or PC for total integration of synth and studio. The VirusControl plug-in automatically detects and connects the synth, ensuring a hassle-free configuration every time.
Specifications
Polyphony - Between 25 to 110 voices, depending on the complexity of the patch
Multitimbral - 16 part
Oscillators - 3 oscillators with one sub oscillator per voice
Waveforms - Traditional VA, Wavetable, Graintable, HyperSaw, and Formant
LFO - 3 LFOs with 68 waveforms
Filter - 2 multi-mode filters (lowpass, highpass, bandpass, bandstop) with an optional saturation module and an Analog Filter modeled after the Moog cascade filter with 6 to 24 dB/oct slopes
Envelope - 2 ADSTR envelopes
Effects - 129 parallel effects: delay, reverb, distortion/lo-fi algorithms, phaser, chorus/flanger, character control, ring modulator/shifter, EQ, vocoder
Sequencer - None
Arpeggiator - 32 steps with global control for swing/shuffle and note lengths
Keyboard - 37 keys with velocity and aftertouch
Memory - 1024 RAM and 3328 ROM sounds
Control - MIDI In/Out/Thru and USB
Date Produced - TI Polar - 2005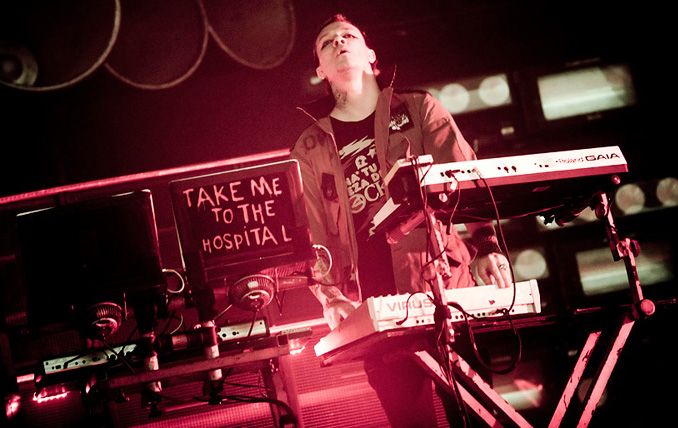 This synth is Liam's current live favourite and he is using it in every show most of the time messing with it and making different effects and synth sounds to top of the tracks. Red toned picture is from Pukkelpop 2010.