N2Entertainment.net
The one to watch - featuring: Maxim
1st July 2014
Lana K. Wilson-Combs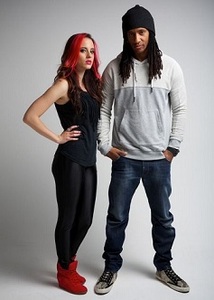 Keith Palmer, aka, Maxim Reality, member of the English electronic music group, The Prodigy has taken a "break" from his band mates Liam Howlett Keyboardist) and Keith Flint (Vocalist).

Maxim has been with The Prodigy since it formed in Essex, London in 1990 and he's been instrumental in the group's success starting with the release of their 1991 first EP "What Evil Lurks."
But it was Prodigy's 1992 debut album "Experience" that catapulted them from underground to the mainstream thanks largely to the album's single, "Charly."

Since then, plenty of critical acclaimed has followed The Prodigy. In 1998 their "Fat of the Land" album received a Grammy nomination for "Best Rock Album" and in 2005 the release "Always Outnumbered, Never Outgunned" got a nod for "Best Electronic Dance Album."

Maxim says his temporary departure from The Prodigy isn't due to any beef or drama brewing with the guys. The songwriter/DJ/producer has been eager to tour and perform some of the heavy-hitting beats he's produced that not only encompasses electronic dance sounds, but hip-hop rock and soul music as well.

Maxim kicked off his live tour with MC Cianna Blaze (pictured) on October 25, 2013 and it will conclude June 30, 2014.

That leaves the singer a little down time before rejoining The Prodigy who will headline with Metallica and Iron Maiden at this year's Sonisphere Festival July 4-6 in Knebworth, England.

The last time Maxim and The Prodigy—which also included group member Leeroy Thornhill--performed at the Sonisphere Festival was in 1996 with the rock band Oasis.

N2Entertainment.net caught up with Maxim by phone from his home in London.

The accomplished musician discussed his career and his decision to branch out and tour with Cianna Blaze. We also talked about his musical influences and when fans can expect that highly anticipated new Prodigy CD.

Read on to find out what else Maxim had to say.

Q. This is your first tour in almost four years without your "Prodigy" band mates. What's it been like on tour and performing with MC Cianna Blaze?

A. It's a lot different. It's exciting and a new venture for me, but I've been having fun with the tour and connecting with the fans. They've been very receptive to the shows. I met Cianna (Blaze) through a friend and was blown away by her first performance. She has amazing musical skills. Vocals have been so much a part of my life that I thought it would be a cool idea to have an MC join me on stage to be my voice. Plus, I wanted to get someone who looks better than me. She's very sexy and brings out the sexiness in me (Laughter). We complement each other. Cianna has a very good voice and believe me; I am quite picky about female MC's. Most have high voices that after a while can grate on you, but she doesn't. After the tour, we're actually going into the studio to write and produce some tracks.

Q. What has inspired you to write, produce and remix for other artists?

A. All the DJ work backstage with The Prodigy gigs. I was there to liven up their live shows and thought I could put my skillset to use and work with other talent too.

Q. Do you remember your first DJ gig?

A. Yeah, I sure do. It was in Berlin. I was nervous as hell too. But people loved me there even though I really wasn't all that prepared to be on stage. Since then my agent kept me doing DJ gigs and it just became natural for me. I've always done gigs with The Prodigy.

Q. Do you have like an alter-ego when you are out front with The Prodigy and the when you're behind the decks? Is it a totally different vibe?

A. It is kind of like being in two different worlds. Being out front with the group is livelier. You're making the music and playing the music. When I'm doing the DJ thing, I am working with other people's music. It's all good, but nothing beats being in a band.

Q. Some have compared The Prodigy to the Chemical Brothers and Fat Boy Slim because you are pioneers of the big beat genre. What are your thoughts on that?

A. Without sounding too arrogant, as far as the sound, I think we stand on our own. The Chemical Brothers yeah, I can agree. Fat Boy Slim probably not. I think our sound has evolved over the years and includes a bit more soul and hip-hop.

Q. Who are some of your biggest musical influences?

A. I grew up at the end of the punk music scene. My peers were all into punk music. I knew the Clash and all that, but I actually listened to a lot of reggae, hip-hop and metal music. I like the old school hip-hop because of the beats. I love Wu-Tang Clan, Gang Starr, Rage Against the Machine and Nas. I'm a big Funkadelic fan too. Love Bootsy Collins and Parliament. And then of course Al Green, Aretha Franklin, Sarah Vaughan and Otis Redding were always playing in my house.

Q. Is there a contemporary artist that you like?

A.Kendrick Lamar. I really like his style.

Q. When will The Prodigy's new CD come out and what can fans expect?

A. We're hoping to release it by the end of summer or early fall. That's the plan. We haven't decided yet (as of this writing) on a title. I know we've been teasing a lot of our fans because it's been a while since the last album "Invaders Must Die" in 2009. I can say this. The new disc will be bigger, badder, bolder and louder than anything The Prodigy has done. How's that for a little hype? (He laughs).