NME
The Towers Of London reveal a very special collaboration
The band are 'drinking buddies' with The Prodigy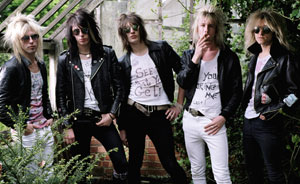 Towers Of London have revealed that a very special collaboration with The Prodigy is on the cards.

Speaking to NME.COM, Towers Of London guitarist The Rev confirmed the band have been discussing the possibility of a release with his close mates.

Famous for Number One hits 'Firestarter' and 'Breathe', The Prodigy became 'drinking buddies' with the Towers Of London after frontman Keith Flint invited the band to support them at their last UK date of a recent tour.

"Towers first supported The Prodigy at Brixton Academy," explained The Rev. "I met the guys from the band and was invited for mad nights out with Keith. We kept in touch, exchanged numbers and became drinking buddies."

The Rev, who has lent his guitar skills to The Prodigy in the past, continued: "Out of the blue I got an invite to Keith's wedding and got chatting to Liam Howlett.

"Liam said he was interested in getting me in the studio with them. I then began playing some festivals with The Prodigy, including Creamfields In Lisbon."

The Rev insists his work with The Prodigy does not conflict with The Towers Of London, and that the other guys are "behind him".

As for the Towers-Prodigy collaboration, the guitarist says it's definitely "on the cards".

"We've been talking about it and exchanged tracks," he explained. "It's something we'd love to do. We're fans of theirs and they're fans of ours. It's something you can't turn down."