Who Ate all the Pies
Shit Football Kits: Remember When The Prodigy Sponsored An U13s Team From Hampshire?
18th April 2013
Chris Wright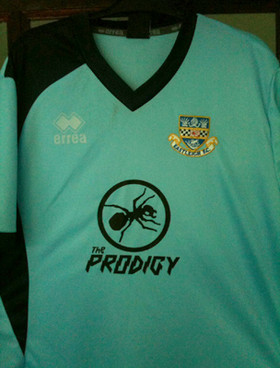 Bands/musicians sponsoring football teams is nothing new. In fact we've seen Goldie Lookin' Chain, Wet Wet Wet and even Stone Roses frontman Ian Brown plastering their names across the front of football strips in the past, but perhaps the most unlikely confluence betwixt music and football was between hardcore 90s ravemongers The Prodigy and Eastleigh Reds, an U13s side from Hampshire.
The story goes that back in early 2012, Prodigy mainman Liam Howlett caught wind of the fact that Eastleigh Reds' coach Chris Chapman pepped his young charges up before games by cranking up Prodigy track 'Warrior's Dance' in their dressing room before games.
After being tipped off by a music journalist whose son played for the team, Howlett decided to buy Eastleigh Reds a new kit for the 2012/13 Hants Junior League season, which saw the young'ns turning out in an aquamarine strip (surely red would've been the logical choice?) with the band's ant logo emblazoned across the front…
The lads then went on to win the Hampshire Cup while decked out in their new colours…