TC Electronic
PowerCore FireWire Used for Worldwide Prodigy Tour
1st January 2005
Henrik Midtgaard and Mike Nicke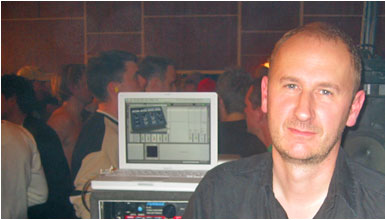 FOH engineer Jon Burton met with two of TC's support guys before the sold-out concert with The Prodigy in Copenhagen. Henrik Midtgaard and Mike Nickel learned why Burton uses PowerCore live - and why Prodigy concerts have to be loud beyond reason!

The most prodigious electronica act to emerge in the 1990s came from the UK. The Prodigy entered the British charts at number one back in 1996, and have collaborated with various artists like Liam Gallagher, Twista, and actress Juliette Lewis. Following their 2004 comeback record, "Always Outnumbered, Never Outgunned", the band is back on the road again.

Fire walk with me…
FOH engineer Jon Burton accompanied The Prodigy on their worldwide tour, where he was responsible for the Front of House as well as all other things concerning the sound. We met with him on October 19, 2005, before the Prodigy concert in Store VEGA, Copenhagen. Highly suitable for a band with a smash hit called Firestarter, Burton uses the PowerCore FireWire for The Prodigy's combustible concerts.

PowerCore enables software live
"A lot of bands are experimenting with using software live, essentially trying to translate the song material into a live format. This doesn't always work" - Jon Burton explains - "because a lot of software plug-ins simply aren't good enough. Only within the last year, things have started to improve with the PowerCore platform and stuff like the Audio Damage plug-ins."

Light, portable, and very stable
TC's PowerCore FireWire is mainly providing effects for the vocals. Jon Burton is using the 24/7-C and the Tubifex on Keith Flint and Maxim, along with the built-in live effects. In addition to the PowerCore stuff, Burton is also applying other TC equipment like G-Force, M2000, M5000, and the legendary 2290 Digital Delay. "The System 6000 reverbs for PowerCore are also extremely nice", Burton points out, "and the great thing about the whole PowerCore platform is that it is light, portable, and very stable!"

Unexplored territory
During the Prodigy shows, Jon Burton is changing between different tracks in Ableton Live, where a number of plug-ins are set up. These plug-ins are a combination of PowerCore, Audio Damage and built-in Ableton Live plug-ins.
Jon Burton is considering trying out a setup with the PowerCore FireWire and an Apple Xserve. "I will definitely be venturing on unexplored territory trying to run all live processing via software, but so far Ableton Live with PowerCore has proven to be very stable and up to the task."

110 dB from the monitor speakers!
Jon Burton characterizes the Prodigy concerts as "experiencing something that is extremely loud". The sound level was between 104 and 111 dB - loud enough to make your nasal hair vibrate and to make you feel the sub-bass in your chest! We asked Burton if he didn't sometimes feel tempted to turn down the sound level a bit. He explained that Liam Howlett from the Prodigy is backed up by a gigantic set-up of SPL loudspeakers yielding no less than 110 dB. Therefore, the FOH speakers actually need to be this loud in order to keep up with the monitor speakers!

5 quick questions for Jon:

What other artists have you worked with over the years?
Katrina & the Waves, Radiohead, Suede, Cocteau Twins, Beth Gibbons, Stereophonics, Pet Shop Boys, Björk and many others.

What were the biggest challenges on this Prodigy tour?
Moving a lot of air in the same direction at once, has proven more of a science project than expected! The aim of this tour has been to "move objects with sound" - experiencing the Prodigy live is a very physical thing. The audience has to get the feeling of having experienced something immensely powerful.

When was the first time you used PowerCore live?
That must have been Live8 in Tokyo, where I needed some good EQs and reverbs for the Björk performance.

Why did you choose PowerCore for the Prodigy tour?
Basically I needed some lightweight and high-quality equipment to bring with me on the road and use with my Apple iBook. I have used loads of TC gear in the past, so I called up the TC Support guys and asked them if it could be done and how to set it up. They actually sent the Powercore ahead to my Tokyo hotel for the Bjork show, where it got its first trial!