The Sunday Times
Old dogs with new hits
28th October 2018
Mikey Cahill
LEGENDARY BRITISH ELECTRO ACT THE PRODIGY ARE HEADED TO PERTH WITH A NEW ALBUM,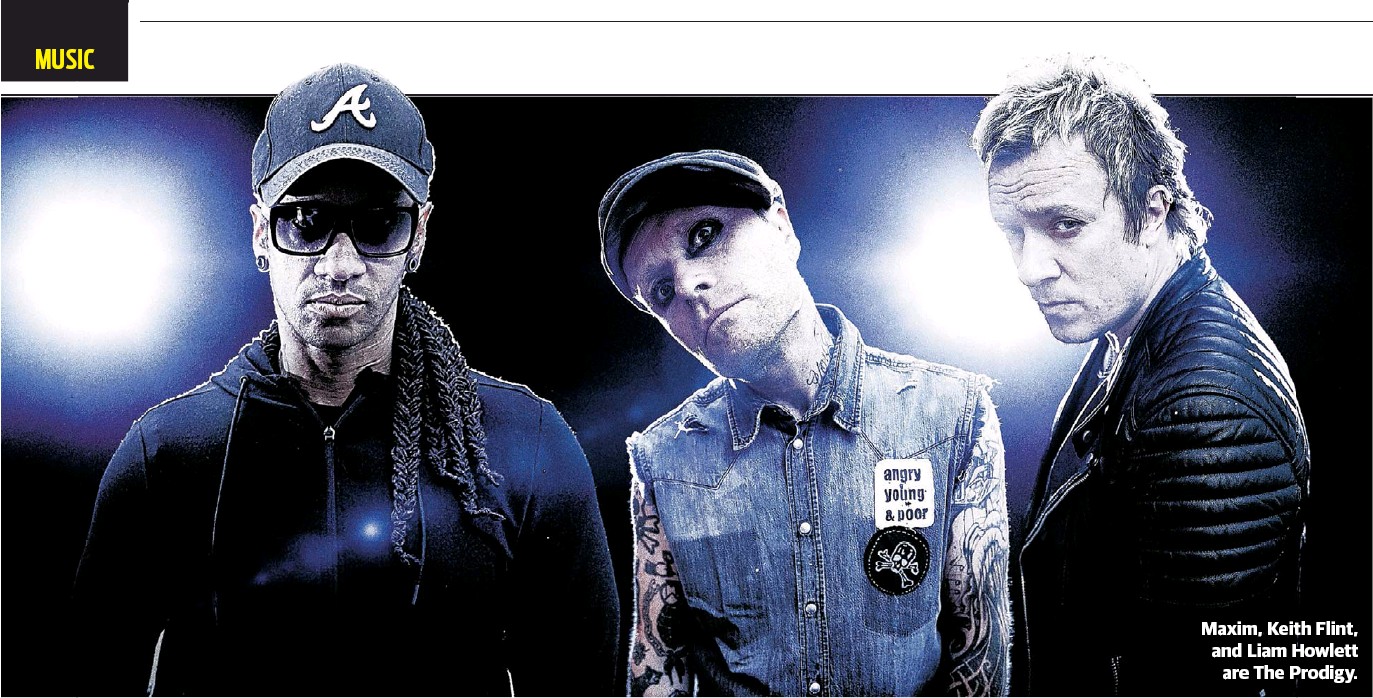 DIESEL Power is arguably The Prodigy's finest moment. The track hits as hard today as it did when it came out 21 years ago on The Fat Of the Land, the British electro rock band's third album and the one that really took The Prodigy's big beat sound into the mainstream without sacrificing their ragged, anarchic edge.
Liam Howlett, the brains behind The Prodigy, enlisted American rapper Kool Keith's calmly confident rhymes for Diesel Power.
"Well, I don't know whether you know this but Kool Keith actually did Diesel Power live with us in Australia," Howlett says from his home, where there's noise in the background.
"I've got a couple of dogs running around, it's chaos, they're biting each other," he says. "They're little ones from Mexico, Bubs and Dips."
Back to Kool Keith: "We did Future Music Festival in 2005 and we were in Melbourne and I was walking down the street and saw a poster that said Kool Keith was touring and I was like 'Holy s---, Kool Keith's 'ere!'
"I somehow got hold of him and invited him to the gig we were playing at The Metro and he got up on stage with us," Howlett recalls, then adds the best bit, "and that's the only time he ever did Diesel Power."
Some internet research reveals Kool Keith returned to the stage to do Smack My Bitch Up.
The only known review of the 2005 show declares: "Kool Keith looks like he doesn't want to stop. At the end of the
Smack My Bitch Up he just lies down on stage and repeats his line over and over again."
Not a bad result from just walking around Melbourne as a tourist. Thirteen years later Howlett and his Prodigy crew have made a seventh album, No Tourists.
"No Tourists is basically about wanting people to be derailed. Everyone falls into the tourist trap, it's all very easy to go along with the flow," Howlett says.
"Some people might want some danger, some risk. This is a reminder to step sideways, put the phone down and don't allow yourself to be lazy.
"It's not a club, it's not being elitist, it's a reminder that people have forgotten to explore. As we move forward we're fighting this constant battle of being force fed what to think."
No Tourists rejects the algorithm. "In a way, yeah, everyone needs to find their own levels in that. It's really describing that in ourselves, in The Prodigy."
The Prodigy are now 28 years into their career. The first third of their lifespan is easily their finest. Out of Space, No Good (Start The Dance), Voodoo People, Breathe and Firestarter all came in the '90s. The band's last great song was Girls in 2004.
Howlett admits there have been some misses among the hits.
"Baby's Got a Temper (2002 song) I never really liked. The band was at its low point, it represents that lame and sluggish tempo, it's really tired. That's what we were like at the time."
No Tourists is the best thing the band have done in years. The title track sounds like a pitched-up Diesel Power and lead single Need Some1 deserves its spot on the record, although it's unlikely we will be talking about it in 21 years.
"For Need Some1 we used the vocals of Loleatta Holloway, she was a proper disco diva and you'd hear her vocals all the time back in the rave days," Howlett says.
"I liked this idea of bringing her voice to gnarly, rocking beats."
"Sometimes as Prodigy we're happy to be able to put out old-school feeling tracks, stuff that's like smash and grab sample-based records. It's important we can still do that and not back ourselves into a corner and become one-dimensional. Her voice takes me back to '89."
The group are returning to Australia for a national tour next year. No Tourists has enough decent songs to lift the set beyond nostalgia hour.
"We have new songs We Live Forever and Champions of London, that (are) about tension in any city," he says.
"I wanted to write tracks that Keith (Flint) and Maxim are on together, like Breathe. It really brings the live side of things out when they're both on stage."
There's life in these old dogs yet.
No Tourists is out on Friday. Prodigy play RAC Arena, Perth on Jan 24. Tickets from $99.90 from Ticketek.