List of The Prodigy Poison promos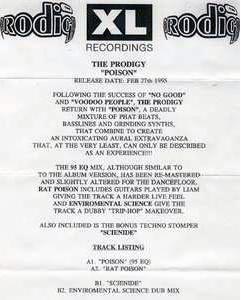 Poison
(27th February 1995, 12" XL-Recordings XLT-58)
A1. 04:01 Poison (95 EQ)
A2. 05:31 Rat Poison
B1. 05:48 Scienide
B2. 06:18 Poison (Environmental Sience Dub Mix)
Track A1 mixed at The Strongroom.
Track A2 & AA1 mixed at Earthbound.
Track AA2 produced and remixed at The Hill For One Gun Productions.
Published by EMI Virgin Publishers Ltd.
Poison
(1996, 12" Mute, MUS1-0)
Promotional copy, white sleeve with black sticker with white letters on it
A1. 06:15 Poison '95 EQ
A2. 04:01 Poison '95 (Edit)
B1. 05:32 Rat Poison
B2. 06:23 Poison (Environmental Science Dub Mix)
© 1995 Mute Corporation. Issued under license from XL-Recordings
Made in USA by WEA Manufacturing. A Time Warner Company.
Published by EMI Virgin Music, Inc. (ASCAP).
Licensed for promotional only - not for sale

Poison
(1996, Mute, MUS1-2) Normal CD case, promotional copy
01. 04:02 Poison 95 (Edit)
02. 06:45 Poison LP Version (Featuring Maxim)
03. 05:30 Rat Poison
The LP version of 'Poison' is credited as "Featuring Maxim" on tracklist - it is identical to the version on 'Music For The Jilted Generation'.
There is no text on sleeve or disk to state that this is a promo.
However 'Poison' never got commercially released by Mute Corporation in the US - so only the promo exists.
The sleeve also lacks a barcode and states "Printed in Canada".